Cloud storage is an absolute necessity in today's day and age. It makes so much sense to store all your stuff in one place. No more worrying about losing your precious memories due to accidental deletion or lost devices. However, the one question that often pops up is which cloud storage service to use?
If you are looking for a privacy-centric cloud storage service, you can go for pCloud, and now is the right time. pCloud has an amazing valentine's Day offer up for grabs. You get lifetime access at a whopping discount. Read on to know more.
What is pCloud?
pCloud is an accomplished cloud storage service with class-leading features. In our detailed review, we put pCloud through its paces and were impressed by its capabilities. The cloud storage platform has struck the right balance between ease of use and privacy features.
Further, it lets you share files and links across multiple devices and platforms. Before sending, you can edit the files with an image, headline, and description. Moreover, pCloud also supports backups from Dropbox, Facebook, OneDrive, Google Drive, and Google Photos.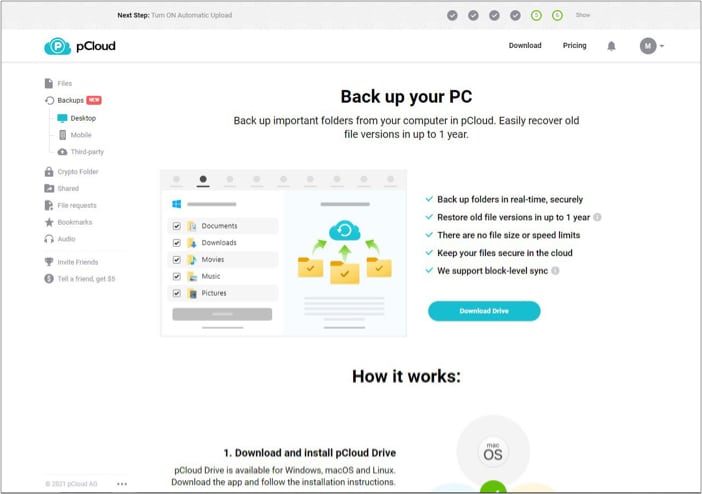 But what's so special about pCloud that we are going gaga over it? Read on.
💡 Tip: During Black Friday, the price for the 500GB lifetime plan was $175, whereas, for 2TB, it was $350. Now, the price has been slashed by approximately $50 and $100, respectively. Hence, it is the lowest price ever!
Why iGeeks recommends pCloud?
I have strong reasons to cherrypick pCloud from a host of other services. It offers a consistent user experience, is reliable, and boasts utilitarian features like Crypto folder and third-party backups, making it a no-brainer choice. Let's see each feature in detail.
Crypto Folder – pCloud lets you lock away sensitive files and folders with Crypto Folder. All the files uploaded to Crypto Folder will boast end-to-end encryption. Furthermore, zero-knowledge encryption gives you complete control over the files. In other words, only you can access them.

Scan documents – pCloud lets you directly scan documents and upload them. You can access and share the scanned documents on any device.

Cloud Storage rewind – This feature lets you recover files deleted within 15 days. It is extremely useful when you wish to recover deleted files. You can also recover files lost due to ransomware attacks or hardware damage.

pCloud Save – pCloud save is a browser extension available on Firefox and Chrome. It lets you save images directly into the folder while browsing. No more cluttered downloads folder!

Fair Share – Extremely useful for businesses, Fair Share lets you collaborate with your team on pCloud. If you share a folder, the other person can add files to that folder. The storage will be counted against the folder creators' usage quota, no matter how many files they add.

Stream Kodi – pCloud packs an impressive integration with Kodi. In other words, you can stream the Kodi collection directly on pCloud. Moreover, you can stream audio directly from the app's Audio page.
Is pCloud secure?
The first question that pops up in our head when uploading our data on any platform is its security. Well, I am happy to share that pCloud is one of the most secure cloud storage services.
Moreover, pCloud Crypto offers zero-knowledge encryption. It uses TLS/SSL encryption and stores data across three server locations. Client-side encryption ensures that only you have the keys for file decryption.
As I said earlier, this is the right time to buy pCloud now. Read on to know why.
pCloud's Valentine's Day offer: 75% discount
pCloud is extending an offer you can't refuse! They have slashed the price by 75% on two plans: 500GB and 2TB; the only difference between the two plans is the storage space. You can choose the plan depending on your storage requirements.
If you use cloud storage primarily for personal backups like photos, videos, and other files, a 500GB plan should more than suffice. If you plan to use it for your work, the 2TB plan is the one for you, and at a 75% discount, you couldn't bag a better deal on the lifetime plan.
Pricing:
Premium 500GB Lifetime: $500 $122.50 (Black Friday price: $175)
Premium 2TB Lifetime: $980 $245 (Black Friday price: $350)
Readers like you help support iGeeksBlog. When you make a purchase using links on our site, we may earn an affiliate commission. Read Disclaimer.