If you've gone on vacation or celebrated a milestone recently, you must have taken some pictures/videos to look back on. There's a pretty good chance that you want to share them with friends and family. My Wow is a simple but powerful video creation and media sharing tool to convert photos and videos into highlight movies!
But is it good enough and easy to use in comparison to other video maker apps out there? Let's find out!
How to use My Wow: Event Video Maker
Getting started with My Wow's Event Video Maker is quick and painless. Download the app from the App Store, open it up, and follow the first-time instructions.
After creating an account, you'll be taken to the home page when you can choose from two options: WOW US and WOW ME.
WOW US
WOW US is your go-to if you're looking to share the highlight reel you create with friends, family, coworkers, social media, or anyone else.
Tap WOW US, then name your event. Optionally, add a location. Set the time you'd like your WOW event to start and end. Finally, select the contacts you'd like to share your presentation with (and if you'd like your contacts to be able to share the presentation themselves, check the box that reads Allow to invite other participants).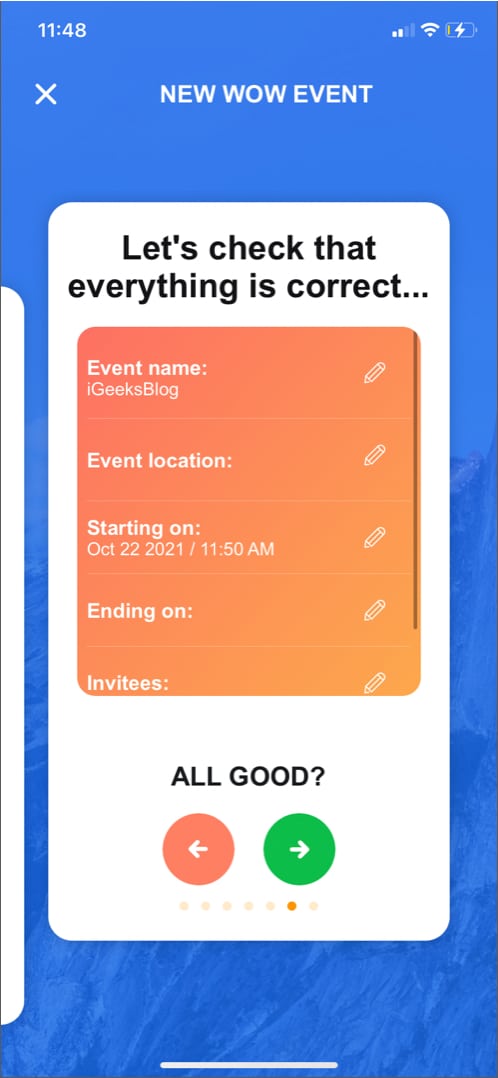 Make sure everything looks good on the overview. Now, you'll be able to share your event link with your chosen participants. Wondering why you can share the link without adding any photos or videos to the event? That part comes now.
Note: We'd also like to note that it's not mandatory to share the link immediately after creating the event; just hold onto it for when you want to send it out.
Make sure My Wow has access to your photos (if you don't want to permit access to every picture, choose Select Photos… though the app works better if you permit usage of all photos.)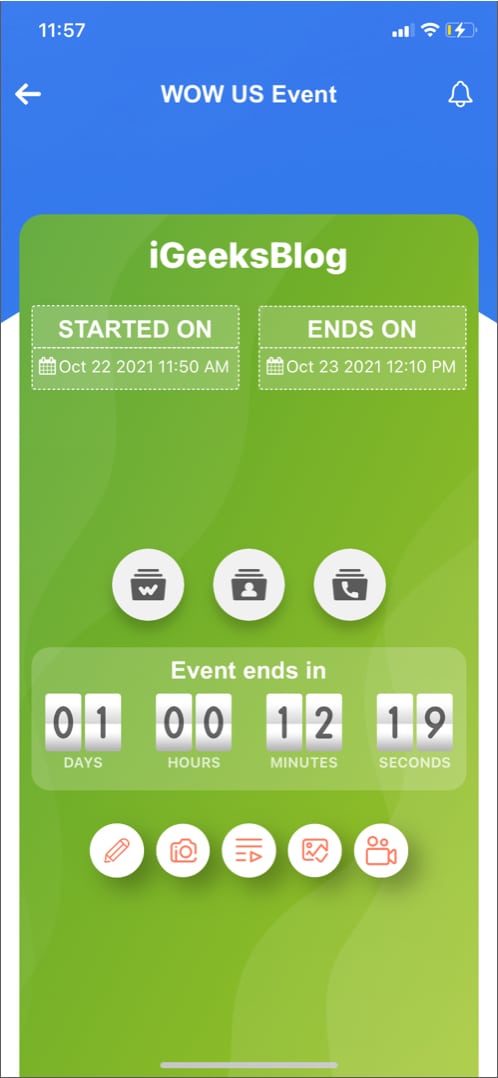 Now, if you want to take pictures or videos to add them to the event, select the camera icon and shoot away. If you're adding existing photos or videos, select the video camera icon and add your media.
Here you can see the event's preview, the images and videos to add or remove, music selection, and event effects (filters). Tap the share icon at the top right to send the reel to your contacts. From the share screen, you can go back to the event editor, share the slideshow, save a copy of the reel to your My Wow dashboard, or trash the whole show.
That's everything there is to WOW US.
WOW ME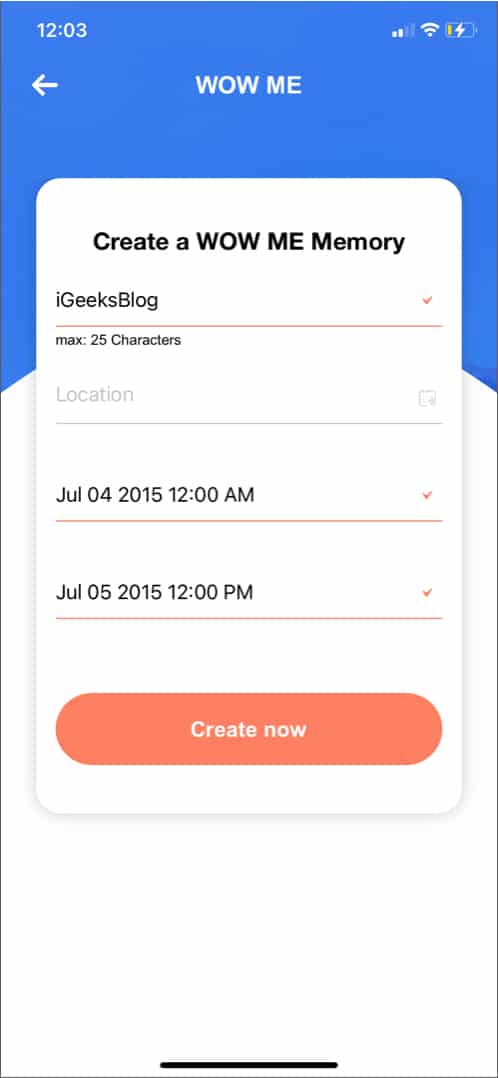 WOW ME is your option if you're not looking to share your slideshow with anyone or you want to share at your own pace. Tap WOW ME, then the plus icon at the bottom right, and enter details like the event title and location.
The process here is the same as creating a WOW US event. Simply add your media, edit the slideshow's frames and music, then save and share. That's all there is to it!
My Wow: Event Video Maker Features Overview
Event reels: Create slideshows of your favorite pictures and videos to share with friends and family.
Easy sharing: Send your My Wow event to social media or contacts directly from the app.
Media editing: Add music and filters to your events, dictate the length of the slideshow, and change the order your photos and videos appear in.
My Wow: Our verdict
iGeekometer
User interface
Features
Performance
Value for money
My Wow: Event Video Maker is a simple app that does exactly what it's set out to – make sharing groups of photos and videos clean and simple. You won't find many bells and whistles on this app, but you'll also find that you don't need them; My Wow gets the job done.
Pros
Effective
Easy sharing
Quickly create slideshow events
Free version available
Cons
Could use some UI/UX tweaks
Free version comes with watermark and ads
That's all for My Wow: Event Video Maker—have another app you want us to take a look at? Have an Apple-related question or problem you need help with? Leave your questions and suggestions in the comments below,. and we'll get back to you!
Read more: