Changing iOS 14 Home Screen app icons has been in trend for the past few months. There is no denying that once you spend thirty minutes or so, the result is worth the patience. While there are multiple app icon designs, in this review, let us go back to the 80s – the old Apple era.
The app icons in question by Ben Vessey, a freelance designer with an obsession for simplicity, are inspired by Mac OS from 1984. According to him,
Each bespoke icon has been lovingly handcrafted using old school techniques – Steve Jobs would be proud!
But would he be proud? Let us see if these are worthy of adoring your iPhone Home Screen!
Highlights of the Old School app icon set
These iOS app icons derive their inspiration from Apple computers' typography of the 1980s. This ensures that your modern iPhone operating system meets the old Mac aesthetics, and you get a beautiful fusion. If you are looking to go retro, this is one of the finest app icon sets.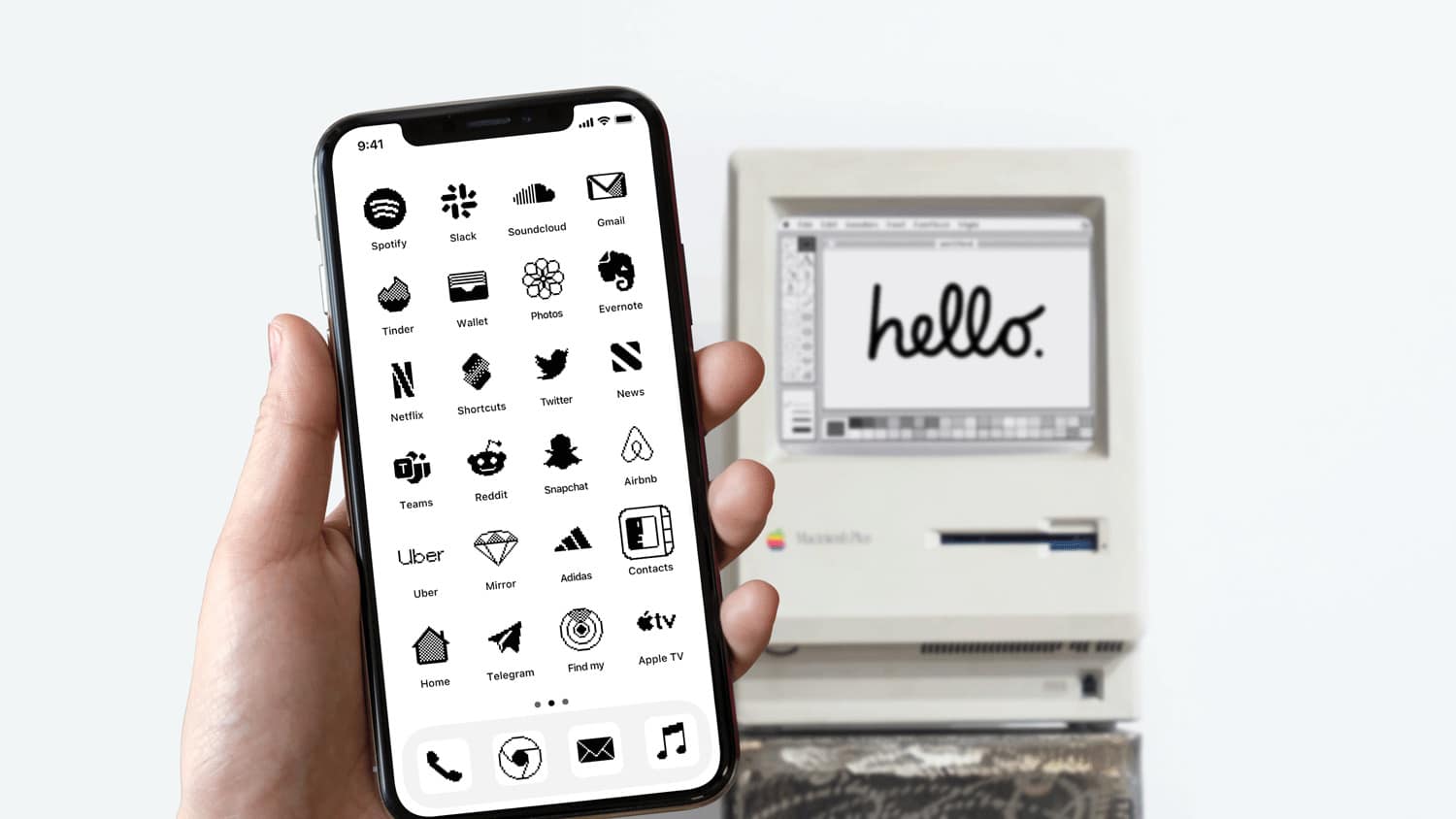 The pixelated black and white app icons are a happy deviation from the standard colorful ones we have on our iPhones since inception. If you like a clean look that is not flashy, the Old School icon set will fit your taste.
You get over a hundred app icons. These include almost all popular in-built (App Store, Music, Camera, etc.) and third-party apps you may have installed on your iPhone like Amazon, Airbnb, Disney+, eBay, Facebook, Gmail, Hulu, Teams, Netflix, and many more!
You might have these frequently used apps on the first or second Home Screen. These retro icons will change the appearance and make things interesting. Now that you know the primary details, let me tell you what you get and how to use them.
What do you get?
After you purchase this icon set, you get the following:
110 high-quality dark-themed app icons (black background with the white element) (I purchased these icons from my Mac and transferred them to my iPhone via AirDrop)



110 high-quality light-themed app icons (white background with the black element)



6 wallpapers. These are the perfect companion for these app icons. Though you are free to use any wallpaper, you like.
A simple instruction file.
After purchasing, all you have to do is have those app icons (.png images) in the iPhone Photos app and follow the steps below.
How to use these app icons on iPhone
It is effortless to use these app icons to create a beautiful iOS Home Screen. Once you get the hang, for each app, it takes few seconds.
We have a complete guide that explains with screenshots how to change app icons on iPhone. But here is a quick recap.
Open the Shortcuts app and make sure you are in the My Shortcuts tab.
Tap the plus icon at the top right and tap Add Action.
Tap Scripting.
Next, go to Open App.
Tap Choose and select the desired app.
Now, select the three-dots icon at the top right.
Tap Add to Home Screen.
App icon: Now, tap the smaller app image → Choose Photo → select the appropriate Old School app icon → Choose.
Name: Rename New Shortcut to the app name. You may also leave it blank for even a cleaner look!
Finally, tap Add. Now go to the Home Screen, and you have the retro app icon.


Repeat the above steps for all apps you like. The above steps may look a lot. But once you follow them the first time, you will realize that it is a quick process. Though, overall (for say, 20 apps), it may take a few minutes.
Once you have the new app icons, take a minute to use one of the six provided wallpapers or use one that you like to achieve the perfect look. You may also play with iOS 14 Home Screen widgets to make your iPhone one of a kind!
Would Old School make Steve Jobs proud? Our verdict
A resounding yes! Minimalist was what Steve Jobs always aspired for, and Old School boasts a clean, minimalistic look that is appealing and easy on the eyes.
However, design is a personal choice. What I like, you may not fancy much, and what you adore may be ok for me. But I found them exciting. Although I would not use these forever, given the low price, I would undoubtedly invest and use them for a few months.
Price: £3.99 or approx $5.5
You will also love:
Readers like you help support iGeeksBlog. When you make a purchase using links on our site, we may earn an affiliate commission. Read more.
I have been an Apple user for over seven years now. At iGeeksBlog, I love creating how-tos and troubleshooting guides that help people do more with their iPhone, iPad, Mac, AirPods, and Apple Watch. In my free time, I like to watch stand up comedy videos, tech documentaries, news debates, and political speeches.