iGeeksBlog + Pitaka giveaway
Participate and stand a chance to win:
iPad mini 6 worth $499
Pitaka MagEZ Case Pro – The World's first wireless charging case for the iPad mini 6
MagEZ Charging Stand – One of a kind wireless charging stand for the iPad mini 6
No model of iPad supports wireless charging, except one. Oh yes, certain iPad mini 6 models are wireless charging compatible once they adorn the Pitaka MagEZ Case Pro. Before Apple could launch an iPad with wireless charging, the magicians at Pitaka managed the feat. How?
Thanks to the Pitaka MagEZ Case Pro and an accompanying Pita!Flow charger, you can charge your iPad mini 6 wirelessly. But you don't have an iPad mini? Don't worry! We have you covered. Scroll down to know the deets and grab a chance to win a 64GB iPad mini 6 (Wi-Fi) worth $499, MagEZ Case Pro (worth $79), and MagEZ Charging Stand (worth $129).
Read along to know more about these cool products by Pitaka and stick till the end to enter the giveaway!
MagEZ Case Pro: Make your iPad mini BFFs with wireless charging
MagEZ Case Pro boasts a magnetic charging system at the back, which supplies power to the built-in USB-C, which in turn charges the iPad mini effectively.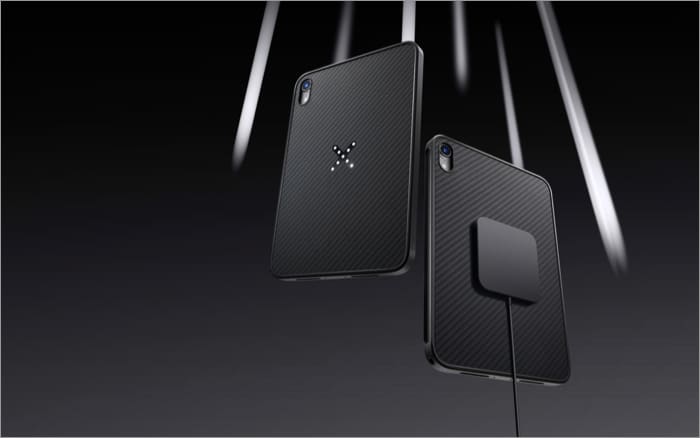 It's not that I haven't seen this trick previously, but not for an iPad and definitely not with the fineness and thinness Pitaka has managed. The MagEZ Case Pro is convenient at many levels, let's see how.
The convenience of design and protection
In all the years that I have reviewed Pitaka's products, I have rarely been disappointed. As per usual, the MagEZ Case Pro is designed with the utmost care, and even the smallest of details are taken care of.
For starters, Pitaka's signature aramid fiber finish looks flawless. The texture on the back offers a superior hand feel. Moreover, the super-soft inner lining and reinforced corner design ensure that your iPad remains scratch-free and protected.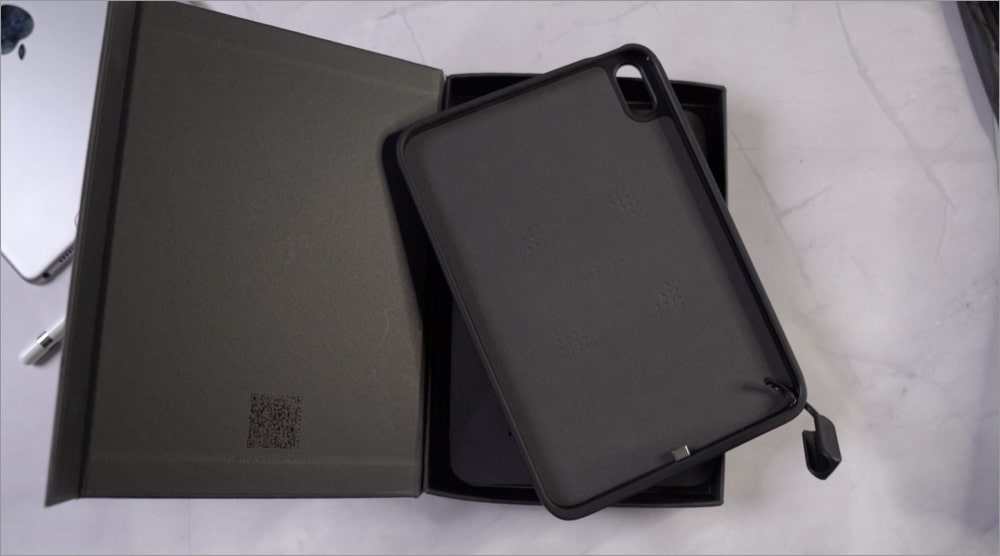 Despite housing the magnetic wireless charging structure (plate or coil) at the back, the case is just 17.97mm (less than 2cm) thick; plus, it's relatively lightweight. So your iPad mini doesn't become a giant that you can't carry around or show off.
The pen clip
While secure by magnetic power on your iPad, the Apple Pencil tends to slip off when especially while inserting or removing from the bag. And what if you choose a third-party stylus, how should you carry that?
Conveniently, MagEZ Case Pro comes with a detachable magnetic pen clip to hold Apple Pencil or another stylus in check. Incredibly, even this tiny-little clip is packed with amazing design elements.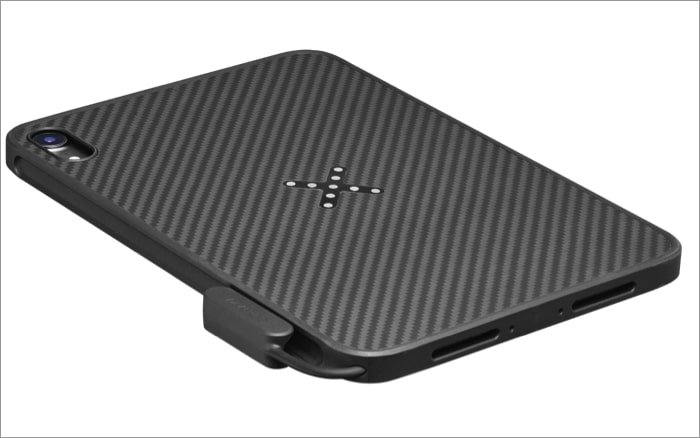 From the interlocking system that'll keep the clip in place to the inside groves to allow smooth and scratch-less insertion and removal of the Apple Pencil, every little detail is thought of, making the designer in me fangirl over the Pitaka designers.
The convenience of wireless charging
Have you ever caught your fingers in the charging cable? Whether gaming, binging videos, creating documents, reading books/articles, or surfing the net, the dangling cable can be irritating.
I know wireless chargers aren't completely wire-free, but the connection sticks to the back, and the iPad sides are at my discretion. Moreover, thanks to the magnetic connection, I can rotate or play around with the iPad without worrying about disconnection.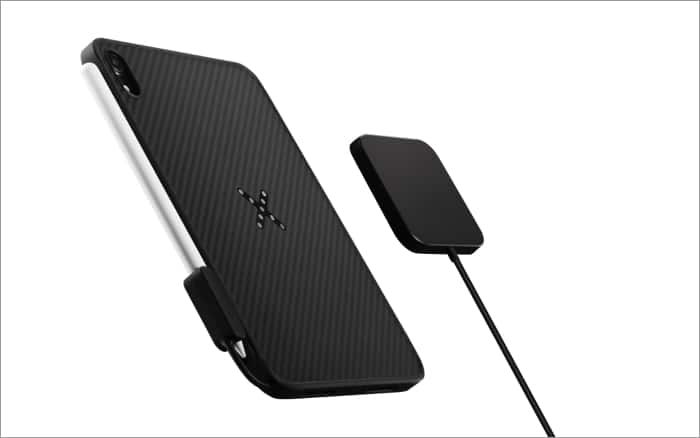 The Pita!Flow Charger snaps on and off the MagEZ Case Pro quite easily. The magnets are strong enough and maintain the hold like Apple's MagSafe chargers. And you'll be happy to know that the charger's max output is 3A, and it supports PD (power delivery) fast charging.
Price: $79.00
MagEZ Charging Stand: The convenience of magnets
Quite like Apple, Pitaka is building up an ecosystem. Dubbed as the Pita!Flow, the system incorporates interchangeable and compatible accessories designed to enhance the productivity of Apple devices.
The MagEZ Charging Stand is part of that system. When combined with the MagEZ Case Pro, it converts the iPad mini into a hands-free tablet, monitor, and more. Thanks to the magnets on both ends (on the case and stand), you can span on/off the iPad with superior ease.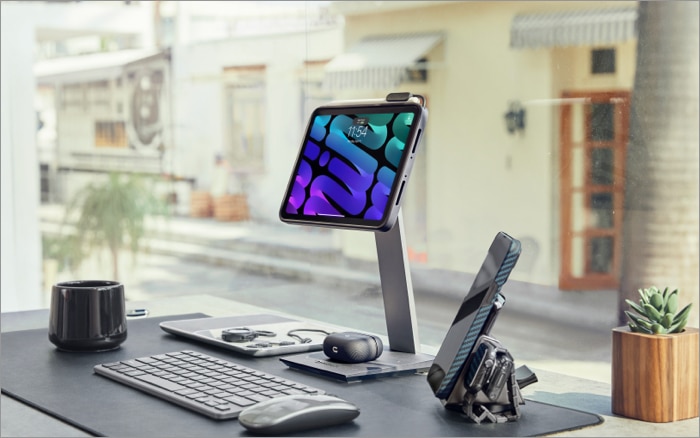 And again, thanks to these magnets, you get a pretty secure and strong grip, so your iPad mini is stuck to the stand unless you snatch it manually.
The magnetic pad can also wirelessly charge the iPad (up to 20W). Additionally, you can rotate the iPad between portrait and landscape positions (actually a full 360°) and tilt it to a suitable eye level ( 32.5° forward and 5° backward)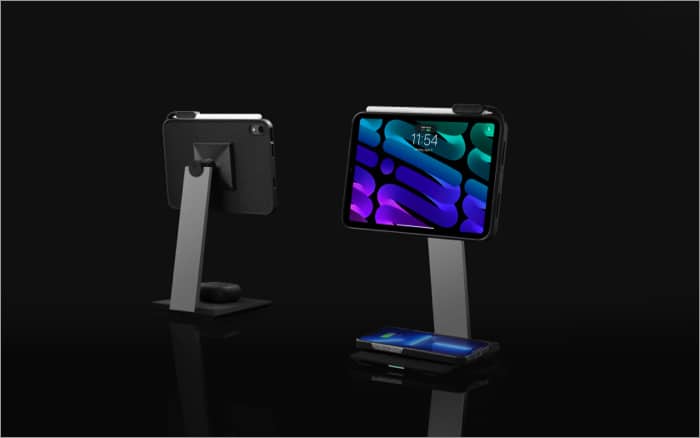 Incredibly, it also boasts a phone/earbuds charging stand at the bottom with up to 15W of charging output. So, you can call MagEZ Charging Stand a multipurpose and well-designed iPad mini accessory.
Why well designed? Apart from the ergonomic-friendliness and multi-device charging aspect, you are also privy to the luxe aramid fiber looks and strong yet not too heavy aluminum and zinc alloy body. The compact stand will suit any type of desk, even a small one.
Price: $129.00
Check out MagEZ Charging Stand
How convenient is Pitaka MagEZ Case Pro?
iGeekometer
Build quality
Utility
Look and feel
Pitaka MagEZ Case Pro is definitely a more convenient way to use your iPad mini. And if you sketch, binge, type, or more, the MagEZ Charging Stand will surely boost your productivity and user experience.
I agree that not everyone loves wireless charging. But for those who wanted the feature on an iPad, this is the best bet yet.
How to enter the iGeeksBlog + Pitaka iPad mini 6 giveaway?
I have been teasing this throughout the article, and now it's time to reveal how you can participate in the giveaway and win an iPad mini 6, MagEZ Case Pro, and MagEZ Charging Stand. Yes, one winner takes it all!
To participate, you must fulfill the following conditions:
PITAKA – iPad Mini 6 Giveaway
Fill out the form and follow ALL these four steps so that we know your details and can verify your participation. The giveaway participation is open from 31-05-2022 (12:00am Pacific time) to 9-06-2022 (11:59pm Pacific time). So, hurry up!
Note: You must meet the below requirements to be an eligible participant.
You must be 18 years of age or above.
You can't participate if you belong to any of the below countries:

North America: Greenland, Oceania: Papua New Guinea, French Polynesia, Palau.
South America: Brazil, Argentina, Uruguay, Venezuela.
Africa: Russia, Ukraine, Mayotte, Cote d'Ivoire, Egypt, Kenya, Tunisia, Uganda, Central Republic, Sudan.
Europe: Aland Islands, French Southern Territories, Isle Of Man, North Macedonia, Andorra, Gibraltar, Kosovo, Albania, Azerbaijan.
Asia: Sri Lanka, Maldives, Uzbekistan, North Korea, Tajikistan, Iran, Syria, Kazakhstan.
Caribbean: Barbados, Aruba, St. Barthelemy, Guatemala, Guadeloupe, Bahamas, Martinique, Jamaica, Costa, Rica, Dominican Republic, El Salvador, Cuba, Trinidad, and Tobago.

The winners will be announced on 10 June 2022.
Winners have to respond and provide requested details within 48 hours. If they fail to do so, iGeeksBlog reserves the right to select a new winner.
That's all
All the best. May the Giveaway Gods be with you!
Readers like you help support iGeeksBlog. When you make a purchase using links on our site, we may earn an affiliate commission. Read more.
A self-professed Geek who loves to explore all things Apple. I thoroughly enjoy discovering new hacks, troubleshooting issues, and finding and reviewing the best products and apps currently available. My expertise also includes curating opinionated and honest editorials. If not this, you might find me surfing the web or listening to audiobooks.