Clubhouse was the first to take advantage of people staying indoors by launching an audio feed-based social media platform. Eyeing the company's rise, many other big tech companies launched their version of Clubhouse, with the latest one being Spotify with its Greenroom.
This article will explain what Spotify Greenroom is, how to use it, and how the service is different from Clubhouse, Twitter Spaces, and Facebook Live Audio Rooms. Let's dig right in!
What is Spotify Greenroom?
Greenroom marks Spotify's formal entry into the social media space. It is (essentially) a Clubhouse clone where users can host and join live audio rooms. In addition to Clubhouse features, Greenroom has an option to record live audio rooms so that you can turn them into podcasts later on.
Moreover, Spotify has special incentives for the creators who want to earn money using the platform.
Spotify hasn't thrown itself in the idea of audio chat social media platforms yet — Greenroom isn't an original Spotify creation. The company bought a social audio chat app dedicated to sports and related discussions, called Locker Room, in March 2021.
Since the buyout, the company added a few features to the app, gave it a nice touch of Spotify's 'Green' color, and relaunched Locker Room as Greenroom.
Note: If you've Locker Room, an update will show up on your device's App Store. Download it to use Greenroom.
Where is Spotify Greenroom available?
Greenroom is available in more than 135 countries around the world. The app is available on both Android and iOS but not for desktop devices yet. Unlike Clubhouse, you don't need an invitation to use Greenroom. You can download the app using the following link:
Spotify Greenroom is now Spotify Live
Do I need a Spotify account to use Greenroom?
Not really. After you've downloaded the app, it will give you two options to sign in. You can either use your existing Spotify account to sign up on Greenroom. I prefer this option as it's quick. Otherwise, you can also create a Greenroom account there and then using your email address.
Also, you don't need a Spotify Premium account to use Greenroom, just in case you're wondering. The app is free-to-use and has the same features for non-Premium and Premium Spotify accounts.
How to start or join a Room in Spotify Greenroom
For now, Spotify Greenroom sessions are primarily focused on sports, as the app has been based on a sports discussion app. To join a room, follow these steps:
Open Greenroom.
Tap the magnifying glass icon at the bottom.
Search the topic for which you want to join a room.
You can also look at all the live rooms by tapping the All button on the main screen.
Once you've found a group of your interest, tap the Join room button to join a room.
In the room, you can;

Invite a person
Share the link with others
Raise your hand to become a speaker
How to create a Spotify Greenroom on iPhone
Tap Create room.
Next, name the room.
You can also provide a name, such as an episode number, if you have a show, or a series, of live audio rooms, on the Greenroom app.
Next, select a group for your room.
Select if you want a recording of your live audio room and want the listeners to use live chat.
Using live chat, your listeners can easily ask you questions without having to 'raise a hand.'
Select Go Live to start an audio room.
What are Spotify Greenroom Gems?
Gems are like upvotes in the Greenroom app. If a speaker says something you agree with or like, you can give a Gem to the speaker. You can double-click the profile icon to give a Gem. Unlike Facebook Live Audio rooms, Gems are free of cost. You can give up to 2 Gems every 30 seconds.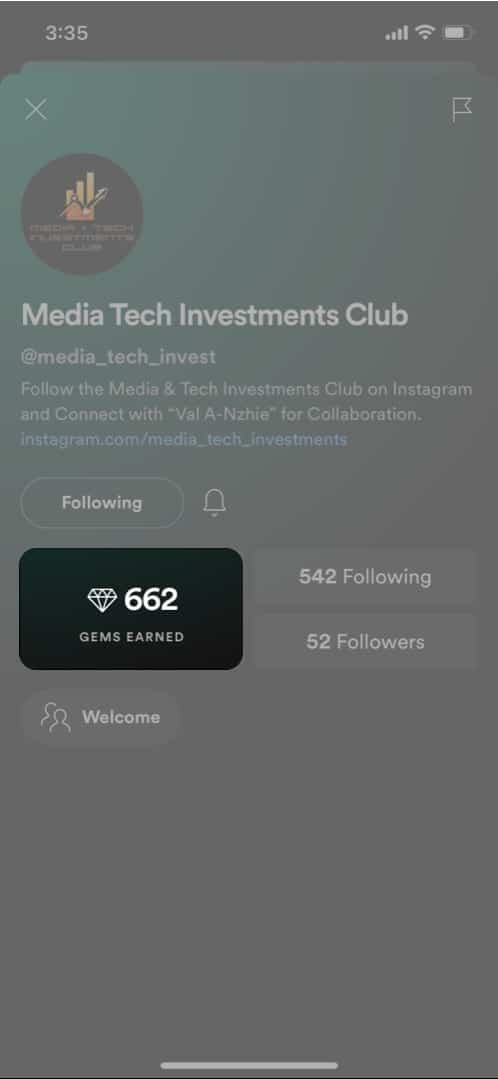 During a discussion, Gems will show under the user profile icon. You can also see the total Gems collected by the speaker by going into their profile detail.
How and whom can you report in Spotify Greenroom on iPhone
One of the major problems for Clubhouse during its early days was its inability to stop the hate content. There was no automated bot to stop the rooms that spread hate or hosted inappropriate content. Moreover, there was no button for reporting such content.
Greenroom uses Spotify's AI to stop the prohibited content automatically. You can't host a room with the following content:
Hate content
Inciting or glorifying violence
Promoting self-harm
Harassing others
Posting sexually explicit content
Violating the Greenroom terms of use
Spotify may take action against users found hosting such a room.
Incentives for creators on Spotify Greenroom
Spotify Greenroom offers interesting options to creators. It launched a Creators Fund along with the app. Creators can monetize their room — they can either host paywalled rooms or have donation links in the room. As mentioned above, creators can also record a room and upload it to other podcast apps.
Spotify has planned significant updates for Greenroom. The company aims to host more than just live audio rooms and expand into the culture, arts, and entertainment-related content.
Interested creators can sign up for the Spotify Greenroom Creator's Fund that opens up later this summer.
Spotify Greenroom: Is it better than Twitter Spaces and Clubhouse?
Spotify Greenroom is a new entrant in live social audio-based platforms. Currently, the app is available in beta, so there are a few bugs here and there. Overall, the app usage feels similar to Twitter Spaces and Clubhouse.
Nonetheless, there are a few key differences. Let's take a look:
Pros
Record audio rooms which other apps don't offer
Allows listeners to chat while listening to a discussion
Ability to set notifications for creators when they go live
Cons
No way to connect with contacts already on Greenroom
Lack of integration with the Spotify app
Audio rooms are a bit buggy
Search functionality isn't seamless
With Spotify's reach and popularity, Greenroom seems to be on the right trajectory for fame. At the same time, it feels like Spotify is doing a bit of everything and mastering none. How well will Spotify's first platform perform? Only time will tell.
I hope you understood everything about Spotify Greenroom. If you have any queries related to Greenroom, leave a comment below.
You may like to read these as well:
Readers like you help support iGeeksBlog. When you make a purchase using links on our site, we may earn an affiliate commission. Read Disclaimer.