Things to know before downloading these free Notion templates for your iPhone, iPad, or Mac:
To install the template, click the download link. Once the template loads, hit Duplicate.
Installing a new Notion template won't replace the previous ones.
Notion is a powerful organization tool that enables users to create customized workspaces for managing projects, taking notes, and more. One of the great features of Notion is its ability to create and use templates that can suit your needs.
While you can customize themes on your own, it is time-consuming; the solution is to use free templates designed by others. So, whether you are a student, professional, or someone looking to get organized, download our recommended 10 best free Notion templates for iPhone, iPad, and Mac and increase your productivity!
1. 2023 yearly goal tracker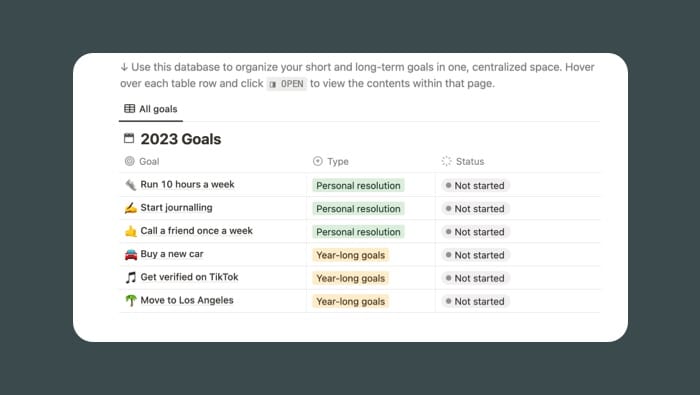 It's never too late to start something new. So, what's wrong if you couldn't put your New Year's resolutions into action since day one? You can still make that happen if you have the right mindset and are well organized. To make things easier, here's a yearly goal tracker for Notion.
What it does – Keep track of your yearly goals
Who is it for – Anyone looking forward to making 2023 goals come true
Why choose it:

Monthly, quarterly, and yearly goal tracker
Habit tracker
View all goals for the year at once
Download template
2. Notion template for students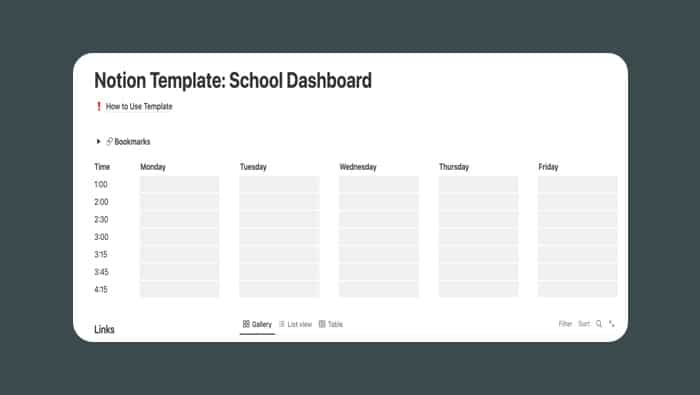 As a student, I always wanted to organize things and ensure that none of my projects, homework or other activities were left out. At that time, I used to write down all these activities in a notebook, and as you might have guessed, it soon got cluttered.
Thankfully, with this Notion template for students, you won't have the difficulty I had. With this Simple School Dashboard, you are sure to get some time-saving features.
What it does – Help to organize class, projects, and other activities
Who is it for – School and University students
Why choose it:

Log your schedule
Add class notes for each dedicated subject
Ability to organize links based on subject and occasions
3. 2023 Notion Calendar
Life's much more enjoyable if you can add some planning and organize things. With this Notion calendar template, I hope that you will be able to make that true. If you are someone who is in search of aesthetic Notion templates, then you will be pleased to see this template.
What it does – Notion template focused on productivity
Who is it for – People who are looking for a task manager integrated with a calendar
Why choose it:

Calendar with progress bar
Weekly calendar tools
6 colored themes to choose
4. Simple Spending Tracker
You always have to ensure financial stability if you want to lead a happy and safe life. Being aware of your spending habits is the best way to keep your balance in check. With this free Notion template, you will be able to track your expenses and prevent you from saying:
What it does – Tally and journal all expenses
Who is it for – Those who want to keep track of their spends
Why choose it:

Easily switch between multiple view options
One-click button to create a new month's table with the same formula
Monthly recap to analyze if expenses went under/over budget
5. Notion template for content creators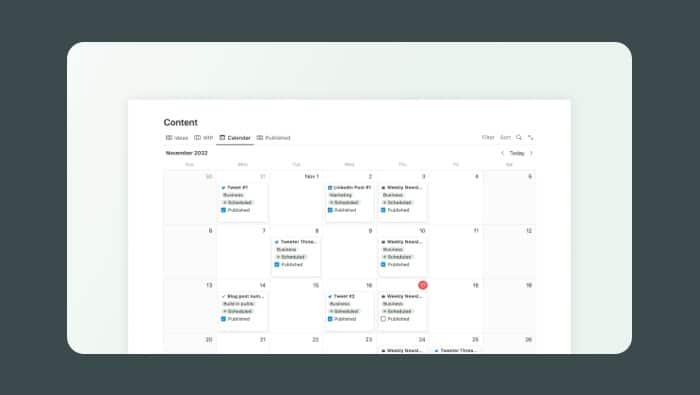 It is a day and age where we can see content creators in every nook and corner. However, if you are planning to enter into content creation, you must plan them properly. With the right Notion templates for content creators, you can easily stand out from the rest and grow exponentially.
What it does – Plan and manage contents in one place
Who is it for – Content creators
Why choose it:

A dedicated section for each social media platform
Content bank
Ability to make changes to each section
6. Calculate running balance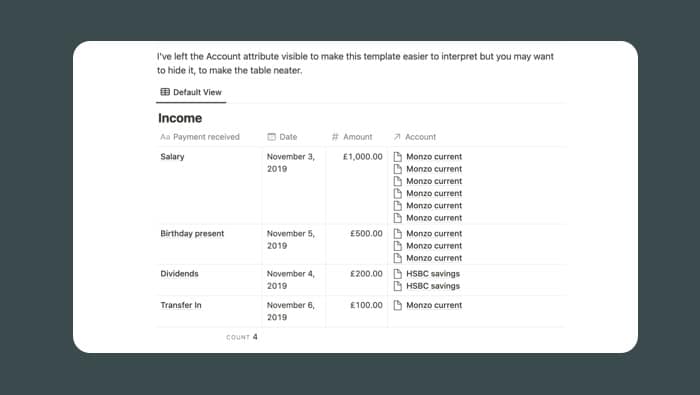 If you use Notion templates for business, then you don't need to worry about managing the data related to your business. With this template, you can keep track of a running total/balance for a series of transactions instead of calculating a new balance.
What it does – Track running total/balance without creating a new one
Who is it for – Entrepreneurs, traders, etc.
Why choose it:

View Account balance
View income logs
Monitor transactions
7. Concert Wishlist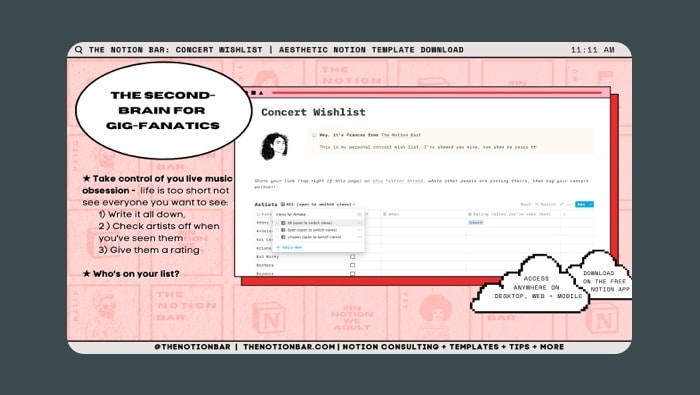 What is life if we all limit ourselves to the daily office and studies? So go out once in a while, especially to concerts. This free notion template is for you if you have a huge wishlist of concerts!
What it does – Keep track of the concerts you want to attend
Who is it for – Music lovers
Why choose it:

Plan your dream concert list
Keep track of when you saw them
Rate the concerts which you have attended
8. Interview kit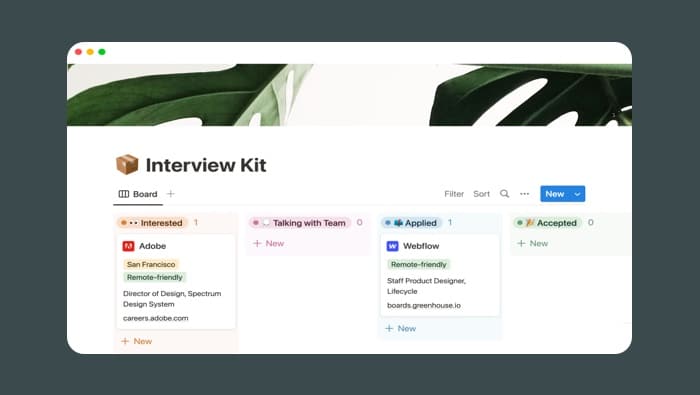 We all want to grow in our professional life, and the best way is by applying to different opportunities and hoping for the best. With this Notion template, you can keep track of the roles, take notes, track progression steps, and more in an aesthetically pleasing appearance.
What it does – Track your candidature
Who is it for – Job seekers
Why choose it:

Organize all the applications
Keep track of the progress
Easy to categorize each application
Organize and stay productive🫡
Notion, even without templates, can help you organize tasks and activities to make you productive. With these Notion templates for iPhone, iPad, and Mac, you will be able to organize things much better and always stay productive. Please note that at the time of writing, all the templates mentioned here are free. Prices may vary with time.
More interesting reads for you:
Readers like you help support iGeeksBlog. When you make a purchase using links on our site, we may earn an affiliate commission. Read Disclaimer.