Whether you're a student, programmer, teacher, or work in the digital scape in any way, you're likely to come across a scenario where you have to scan a document to PDF.
When that scenario is staring you in the face, you want a straight-to-the-point, clean app that gets the job done. FP Scanner is that app. Scan a single document or a batch, pull text from images, add a signature, and share your document; right from FP Scanner.
Let's understand how the FP Scanner iOS app works and whether you should give it a chance or skip it!
A guide to FP Scanner: Start scanning documents
Getting started with FP Scanner is easy. Download the app on your iPhone or iPad from the App Store and open it up. You'll see a walk-through for each available feature, though you can probably figure things out on your own with some tinkering.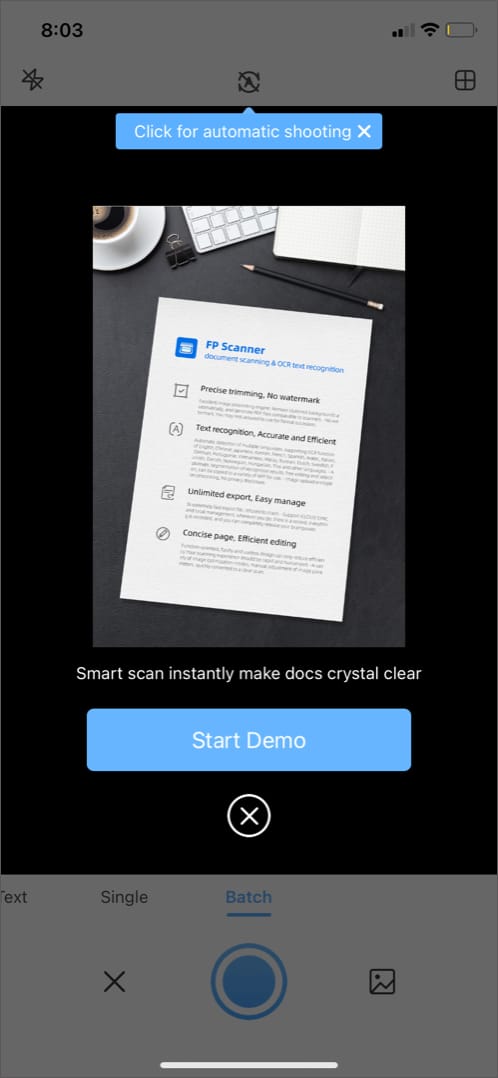 How to scan a single page on the FP Scanner iOS app
Tap Single at the top left of the navigation bar.
Take a picture of the document you wish to export as a PDF or JPEG
Alternatively, you can select an image from Photos by tapping the image icon at the bottom right.
Adjust the frame and tap the blue checkmark in the bottom right.


Here, you can

Add another document
Crop current selection.
Apply a color gradient.
Extract text from the image.
Rotate your selection

Add your signature.


Next, tap the checkmark in the bottom right again.
If you forgot to make a change, you can tap Edit again.
Finally, tap Export to and choose the format: PDF or JPEG. That's it!
You can also AirDrop your file to a compatible Apple device. That's all there is to it!


That's pretty much how you use this app! Let's dive deep into the features of this application.
Features
Extract text from images: Along with scanning the documents, this free PDF scanner for iPhone doubles up as an OCR app, allowing you to recognize and extract text from images accurately. Moreover, the app supports multiple languages and OCR functions of Japanese, English, Korean, Norwegian, Spanish, French, Italian, German, among other languages.

No watermark: Despite being a free app, FP Scanner allows you to scan documents without adding its watermark. Pretty cool, eh?

Easy to use and edit: The interface is super simple to get the job done in no time. The app also offers various image optimization modes and manual adjustments.

Unlimited export: If you need to scan an assortment of documents and share them all at once, you can easily do so! The app also supports iCloud sync.
While the features are pretty impressive, did it get the passing score on iGeekometer? Read on to find out!
FP Scanner for iPhone and iPad: A yay or nay?
iGeekometer
User interface
Features
Performance
Value for money
FP Scanner scores pretty well on all our parameters! And it doesn't come as a surprise considering that it's a free app with a lot to offer to its users. Here's a glance at my experience with the app.
Pros
Easy to use
Perfect scans
Ability to export documents as PDFs and share to multiple locations
Can scan a batch of documents at one time
Supports multiple languages
Cons
No built-in spreadsheet export support
No way to add a watermark
Cannot add passwords to PDFs
Price: Free
If you have any questions about using the app (or any concerns), leave them in the comments below. We would love to hear your thoughts! What other apps do you want to see the iGeeksBlog team review? Give us your suggestions in the comments! We'll do our best to provide a guide.
You may like to read:
Readers like you help support iGeeksBlog. When you make a purchase using links on our site, we may earn an affiliate commission. Read more.