Although Apple didn't directly participate in CES 2022, it was still omnipresent. We were introduced to some smart accessories and innovative products to make our Apple experience even better. Here are some of our favorite accessories for Apple devices at CES 2022.
Interestingly, this year at CES, we saw more product launches for Apple's native technology like MagSafe, Find My, HomeKit, etc., compared to iPhone, iPad, or Mac. So, we have organized the picks accordingly; I hope you'll enjoy them.
Best Find My finds at CES 2022
1. Chipolo CARD Spot – An AirTag alternative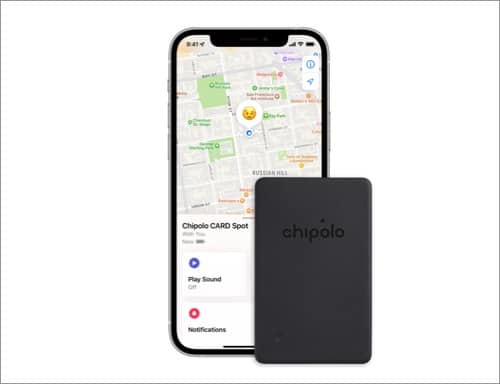 Chipolo is amongst the first few companies to offer exclusive Find My support. And after the success of its circular Chipolo ONE Spot, it has revealed a slimmer, rectangular, card-like option at CES 2022.
At just 2.4mm, the special edition Chipolo CARD Spot is designed to fit in your wallet without bulking it up. Plus, it sports a loud 105db alarm, leaves behind notification, 2-year long battery life, IPX5 rated water resistance, and more.
2. Targus Cypress Hero Backpack – Smart and responsible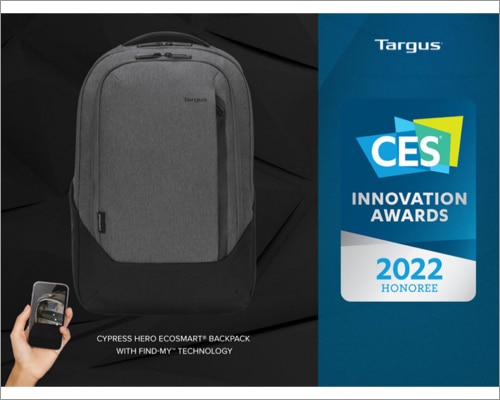 Targus is known for its EcoSmart range of tech-friendly backpacks made from recycled water bottles. And now, the CES 2022 Innovation Awards Honoree Cypress Hero Backpack with Find My technology is joining the party.
Thanks to a built-in location tracker, you can now track and find the backpack from your iPhone. If you've lost your iPhone, a backward-compatible ping button in the backpack can help you find it.
3. Belkin Soundform – Feature-packed earbuds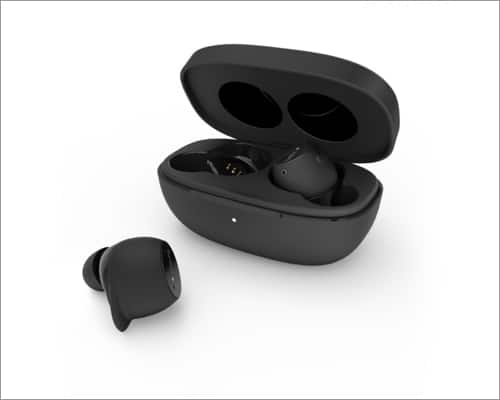 Another one of CES 2022 Innovation Awards Honoree. The Soundform Immerse earbuds feature high-fidelity sound, multi-device support, Hybrid ANC, 12mm drivers, aptX HD 24-bit audio technology, and 36 hours of battery life.
And along with all that, it also extends support to the Find My network. You can track the whereabouts of the wireless charging case and ping it if needed.
Best HomeKit supported devices introduced at CES 2022
4. Eve Outdoor Cam – Secure and protect your privacy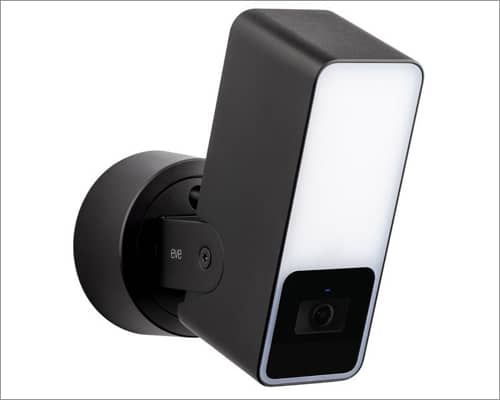 Eve has open-heartedly embraced the iCloud+ HomeKit Secure Video feature. Designed exclusively for the Apple ecosystem, the security camera prioritizes privacy and ensures your data is not accessible by anyone.
On the security front, it boasts a floodlight, infrared motion sensor, night vision, and IP55 dust and water resistance. Plus, it records at 1080p at 24fps, with a viewing angle of 157 degrees, keeping your home protected around the clock.
Shipping starts on April 5, 2022, at Eve
Note: Eve also partnered with Coulisse and launched MotionBlinds motors with Apple HomeKit technology. This allows you to control the blinds seamlessly from your iPhone/iPad.
5. Schlage Encode Plus – Unlock with your iPhone or Apple Watch
One of the first smart deadbolts with Apple's Home keys support. Released in iOS 15, the feature allows to securely store the key in Apple Wallet and lock/unlock the door from their iPhone and Apple Watch.
You don't even have to unlock these devices as the feature supports power reserve mode and can even work when the device is shut down. Additionally, homeowners can create and manage up to 100 access codes and maintain real-time activity logs.
Coming in Spring 2022 at Schlage
6. Wemo Smart Video Doorbell – iCloud and HomeKit friendly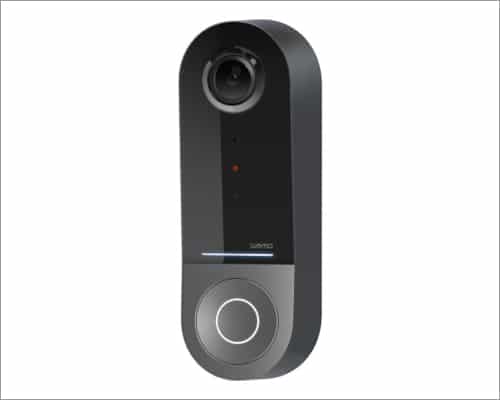 The latest addition to Belkin's Wemo line is a smart video doorbell that supports Apple's HomeKit Secure Video, i.e., all your data will be locked under your iCloud + subscription.
And that's not it; the smart doorbell also houses a 4MP high-resolution camera with a super-wide 178° * 140° * 223° field of view, dual-band Wi-Fi connectivity, enhanced night vision, and motion-based recording.
Note: At CES 2022, Belkin has also revealed plans to introduce the next-gen Wemo Smart Plug, Wemo Smart Light Switch, and Wemo Smart Dimmer with Matter over Thread support.
7. TP-Link Tapo – HomeKit-compatible smart devices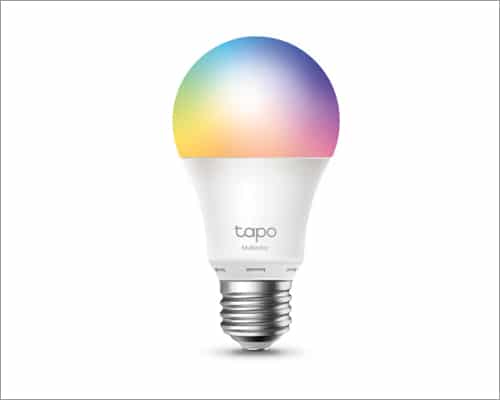 The networking and smart home accessory pioneer TP-Link unveils its first HomeKit-enabled products at CES 2022. To be launched in the U.S. under the brand name Tapo, the range will include smart plugs, light bulbs, smart dimmers, and more.
TP-Link has also announced several smart security cameras. However, they won't offer HomeKit or HomeKit Secure Video.
Note: The CES Innovation Award Honoree Archer AXE200 Omni Tri is also a noteworthy addition to the TP-link family. And since limited words won't do justice to this one, check out the video below to know more.
Top MagSafe accessories introduced at CES 2022
8. SCOSCHE BoomCanMS – Compact MagSafe wireless speakers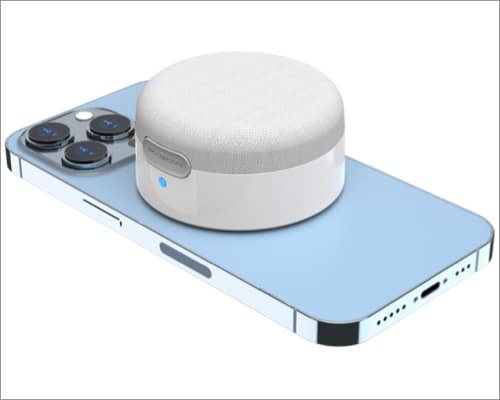 BoomCanMS is a super-compact speaker that kicks way beyond its weight. Thanks to MagSafe compatibility, it can magnetically snap to iPhone 12 and 13 series back like magic. And for non-Magsafe phones, an included magnetic MagicPlate does the job.
The BoomCanMS boasts Bluetooth 5.0, IPX7 waterproof rating, up to 5 hours of playtime, and only 1.5 hours of charge time. Moreover, It promises rich and powerful sound and can double as a detachable kickstand for your phone.
Launches in Spring 2022 at SCOSCHE
9. Belkin Magnetic Phone Mount – A treat for content creators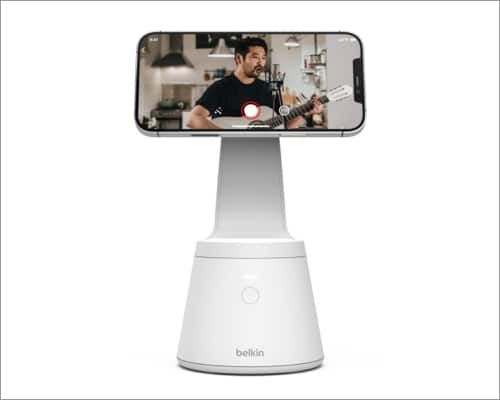 Belkin adds functionality to a basic MagSafe accessory. The magnetic iPhone 12/13 mount comes with a face-tracking feature. The stand can also auto-track your face with a full 360° rotation while holding your phone securely.
Thanks to MagSafe, you get an easy one-handed placement as the phone auto-aligns. It also offers landscape and portrait orientation support. You can also manually adjust the stand vertically from -15° to 30°, allowing multiple viewing angles to the video creator.
10. SCOSCHE MagicMount MSC – Magnetic mount for iPhone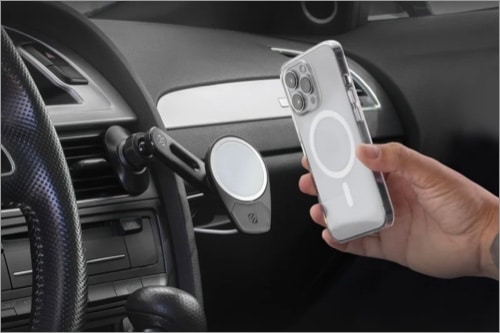 MagicMount MSC is designed with powerful Neodymium magnets that can securely hold an Apple MagSafe charger. So, you can mount and charge your phone with ease, navigate your route, listen to music, and more.
Additionally, an adjustable 360° rotatable head allows you to keep the phone in portrait or landscape orientation. The mount also includes a 20W USB-C fast charging car adapter and four mounting options – window/dash, dash/vent, window/dash telescoping, and cup holder.
Launches in February 2022 at SCOSCHE
Note: SCOSCHE has also introduced 3 other MagSafe compatible car mounts and chargers – MagicMount Pro Charge5, MagicMount Pro, and universal wireless charging, released in spring 2022 and offer similar features to this one.
11. magHANDL – The ultimate MagSafe phone grip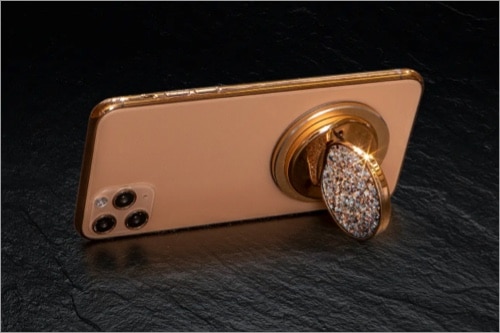 HANDL New York is known for its stylish and statement-making mobile accessories. And this year, at CES 2022, the brand combined magnetic force with micro-suction material. Thanks to this, you can snap on/off the ring base as per convenience.
Note: HANDL New York's upcoming range will also include a MagSafe wallet dubbed magHANDL Wallet. The expandable and totally detachable wallet can hold up to 7 cards.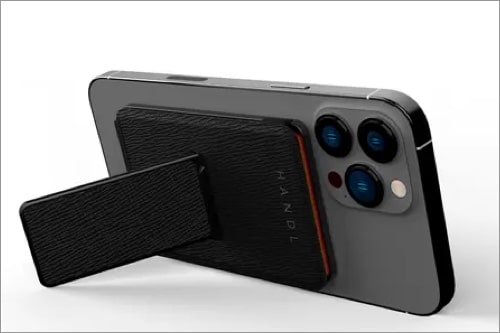 12. Presidio Pro Folio – A case for your MagSafe charger
A slew of accessories for anything Apple is not an uncommon sight. And the fact that Speck has launched an accessory (folio case) for an accessory (MagSafe charger) that costs almost as much is not at all odd!
Jokes apart, the slim and portable folio case is a cool MagSafe companion. For one, it converts the charger into a stand that supports multi-angle viewing. Thanks to a protective USB dock, it also doubles as a cable organizer.
And most importantly, it nicely nestles the charger away from scratches and scuff marks. Moreover, a travel-friendly magnetic closure keeps everything secure.
Best iPhone and iPad accessories at CES 2022
13. Gramin Venu 2 Plus – Siri integration at its best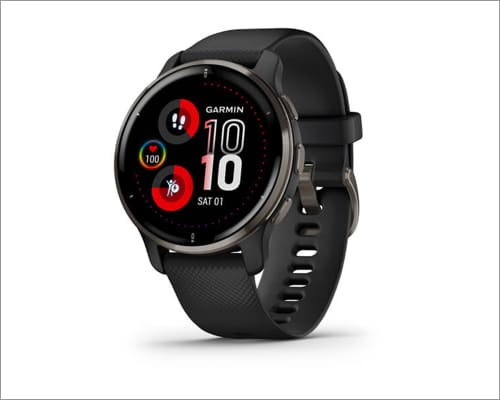 While the Venu 2 brought in microphone and voice assistant integration last year, something was missing for iPhone users. But not anymore, as Gramin Venu 2 Plus showcased at the CES 2022 offers seamless Siri integration.
Siri on the watch will behave similar to your iPhone; it can make a call, send messages, announce notifications, and even answer queries to some extent.
14. Satechi 2-IN-1 headphone stand – Enhancing an already smart design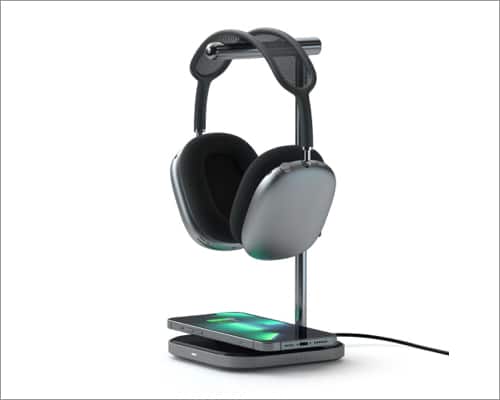 Satechi headphone stand was already one of the most efficient stands for AirPods Max. And now, it becomes more functional, thanks to the built-in wireless charger. You can now charge your iPhone, Android phone, AirPods Pro, or any other Qi-compatible device without much fuss.
15. MOFT Smart Desk Mat – All-in-one productivity solution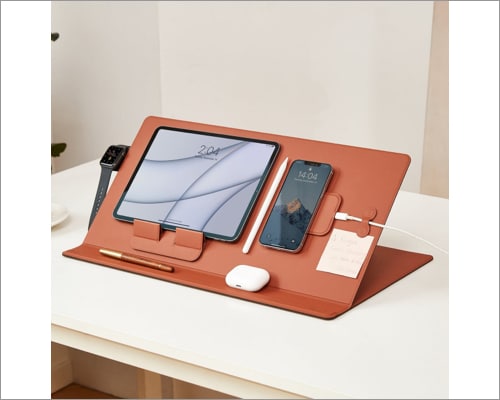 Is it a desk organizer mat, stand, or memo pad? Well, this smart desk mat is all that and more. The newest addition to the MOFT family is smarter than ever. It employs magnets positioned at strategic places so that you can stick/hang your iPhone, Apple Watch, and even iPad.
Plus, it houses two NFC points that can be programmed to trigger various functions, from opening an app and enabling focus mode to enabling/disabling Wi-Fi.
Best Mac accessories at CES 2022
16. Satechi Pro Hub Max – Designed for latest MacBooks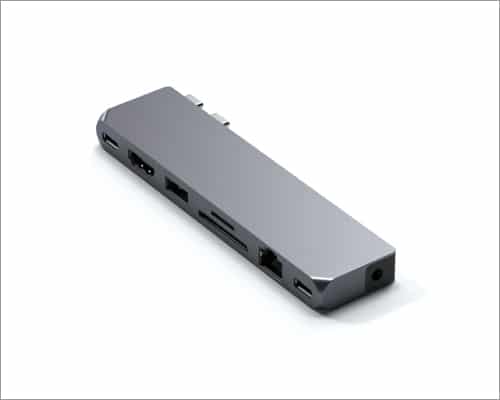 Satechi Pro Hub Max is specially designed for the 2021 MacBook Pro with M1 Max or M1 Pro. It features a USB-C PD port, 4K HDMI output, Gigabit Ethernet, USB-C data, USB-A data, micro/SD card readers, and an audio jack port.
And thanks to these plethoras of ports, you can multitask and multiply your productivity. The aluminum body matches the MacBook, and the dual USB-C connector attaches securely to avoid disconnections.
Get on the waiting list at Satechi
17. HyperDrive Turntable Dock – Best for iMac owners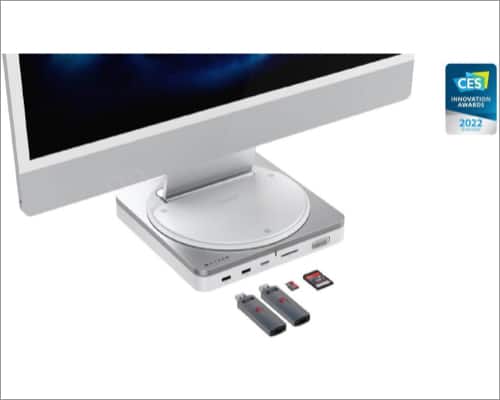 The all-encompassing HyperDrive iMac Turntable Dock employs an innovative 360-degree swivel mechanism. With ten built-in essential ports, it will help professionals and creatives to share screens, attach drives and devices, charge devices, and more.
And the best part is that you can rotate the stand and seamlessly adjusts the viewing angle as per your need and comfort.
18. NexMonitor – Innovative display for iMac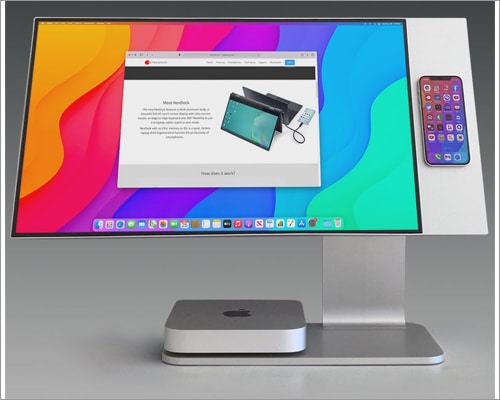 NexMonitor is a sleek 2K or 4K display for iMac with narrow bezels and a sleek patent-pending design. Equipped with an all-in-one USB-C port, it allows users to pair a USB-C-equipped laptop and exchange video, audio, data, and charging.
For pro users, it also boasts a wireless charging dock to keep your iPhone at your eye level and charged up.
That's all for now, folks!
CES 2022 might not have been as grand as previous ones, but it introduced some innovative, out-of-the-box, and mind-boggling products. This was our list of the best gadget launches for Apple devices at CES 2022. Share yours in the comments section below.
You may also enjoy reading the below:
Readers like you help support iGeeksBlog. When you make a purchase using links on our site, we may earn an affiliate commission. Read more.
A self-professed Geek who loves to explore all things Apple. I thoroughly enjoy discovering new hacks, troubleshooting issues, and finding and reviewing the best products and apps currently available. My expertise also includes curating opinionated and honest editorials. If not this, you might find me surfing the web or listening to audiobooks.