A thoughtful gift can add a lot of value to someone's life and make them feel extra special. But it can be challenging to find the right products worth giving. That's why I've scoured the internet to find the best tech Christmas gifts under $50 that'll appeal to almost anyone in your life. Take your pick from the options below.
1. Apple MagSafe charger: For the Apple junkie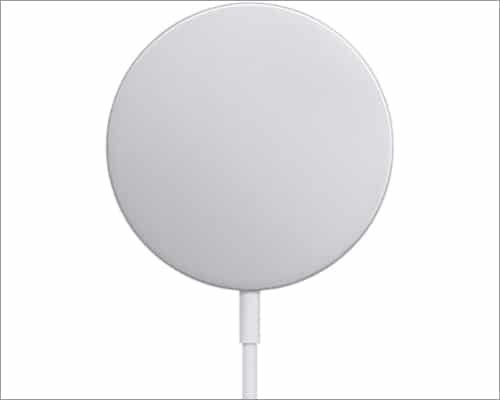 Apple's MagSafe charger is one of the smartest tech gift ideas for Christmas that anyone with the latest iPhone will love. After all, we're all constantly charging our phones, and MagSafe makes it super easy and convenient.
The perfectly aligned magnets securely attach to the iPhone 12 and later. It also doubles up as a regular Qi charger for older iPhones or AirPods. Even if the recipient already owns one of these nifty chargers, they could place a second in another room for added convenience.
On the whole, you can't go wrong with this gift idea for iPhone users. You can also check out other MagSafe accessories to bundle with this charger.
On Amazon | On Apple | On Best Buy
2. Apple AirTag: For the wanderers
A cute little AirTag is one of the best gifts under $50 in 2021, especially for those who're always losing things. This adorable and nifty Bluetooth tracker makes it easy to find items like wallets, bags, keys, and more.
Of course, it requires that the owner has a compatible iPhone or iPad to set it up with. The list of compatible devices is available on the Apple website. The AirTag can be found anytime using the FindMy app.
Moreover, you can also get custom engraving to AirTags when you buy from the Apple online store (link given below) for a personal touch. This is another one of those gifts that the recipient won't mind getting, even if they already own one.
After all, you can use multiple AirTags to track multiple items. Lastly, you can make it even more special by bundling it with some fab AirTag cases.
3. CASETIFY customized iPhone case: For a personal touch
Everyone needs a good iPhone case that's protective yet stylish. One of my all-time favorite brands for this is CASETIFY, especially because their products are a lot more eco-friendly. Moreover, you can customize their iPhone cases with text and colors.
So, why not get your loved one a CASETIFY case that'll be the perfect accessory for their iPhone? The materials are plant-based and recyclable so that you can be kinder to the environment.
At the same time, they offer adequate drop protection and support wireless charging. Even the packaging is compostable, recycled, and recyclable. It's sure to delight the eco-conscious people in your life.
*The price varies for different models. The above price is for iPhone 12 and 13.
4. CONIDO charging station: For the neat freak
If you know someone who has an iPhone, Apple Watch, and AirPods, I'm sure they'll love this handy charging station. It keeps all three Apple devices neatly in place when charging or not in use. It's compatible with all Apple Watch, AirPods, and iPhone models.
I love how the dock is adjustable so that if you have a case on your phone, you can adjust the dock so the charger pin lines up properly. Moreover, you can keep your phone vertically or horizontally and continue using it for watching something or video chatting while it charges.
The recipient can place this charging station on their nightstand, work desk, or any little nook in their home. It's aesthetically pleasing and comes in six sleek metallic finishes to match any decor theme.
5. ANKER portable charger: For smartphone addicts
In this digital age, you can't ever have too much power. This Anker power bank is one of the most useful Christmas gifts for tech lovers. The 10,000mAh portable charger provides 2.25 charges for an iPhone 12 and 1.2 charges for an iPad mini 5.
It's super slim and lightweight for easy portability. At the same time, the in-built safety system includes overcharge protection, short circuit protection, and temperature control. Give it to someone who's always on the move or any power user who'll appreciate the extra battery backup.
6. Te-rich sunrise alarm clock: For sleepyheads
Traditional alarm clocks have long been obsolete, thanks to smartphones. But here's a new age alarm clock that will help people rise on time in a healthy way. It is inspired by the natural sunrise and emits light within 10-60 minutes before the wake-up time you choose.
The color and brightness of the sunrise wake-up light clock will slowly change from red to bright yellow, simulating the natural dawn to gently wake you up.
Moreover, it has a dual function that lets you set two separate alarms for weekdays and weekends or different family members. Gift it to the night owls in your life to help them wake up on time and get productive in the coming year!
Lastly, it doubles as a night light, bedside lamp, reading light, and atmosphere light. It also has a 5V/2A USB slot, which can be used as a power bank to charge your electronic devices.
7. JBL CLIP 3 waterproof Bluetooth speaker: For music lovers
We all know people who literally cannot live without music. Whether in the shower or at work, they're always grooving along to some tune or the other. Well, help them turn the volume up with this handy Bluetooth speaker that's super portable and waterproof.
They can easily take it from the bedroom to the shower to a pool party or even a hiking trip and will be sure to remember you every moment. It's IPX7 waterproof with 10hours of playback time on a single charge.
The integrated carabiner makes it easy to hang or attach anywhere. Moreover, it comes in 12 fun colors and is small enough to fit in the palm of your hand. Pretty cool!
8. Beats Flex wireless earbuds: For almost anyone
If you prefer the music lover in your life to keep their sound to themselves, get them these Beats earbuds. They're one of the best electronic gifts under $50 that almost anyone would love to receive for Christmas.
These magnetic earbuds with auto play/pause are powered by the Apple W1 headphone chip for seamless connectivity. They offer up to 12 hours of listening time and all-day comfort with a flex-form cable and four ear-tip options. Moreover, choose from four sporty color options.
Check out on: Amazon | Best Buy
9. FULLLIGHT TECH Beanie with headphones: For those who're always cold
Nothing matches the feeling of cozying up in warm fuzzy clothing and listening to your favorite music in the winter months. This beanie hat with headphones is perfect for the experience. It's one of the most thoughtful Christmas gifts for a girlfriend or boyfriend or anyone else you care about.
The double-knitted hat keeps you warm and has in-built headphones that work up to 19-23 hours for wireless music and hands-free calls. The Bluetooth 5.2 chip offers a stable connection, and the sound quality is loud and crisp.
The hat is perfectly sized to fit almost anyone, and you can choose from ten cute colors. I'd recommend getting one for the whole family!
10. Native Union Stow: For the tech-loving traveler
Check out this premium solution for organizing and protecting tech accessories when on the go. This organizer is perfect for the traveling tech junkies in your life. The outside features tough fabric adorned with genuine leather accents and intricate finishing stitches to handle life's adventures.
The well-padded quilted interior offers the utmost protection against knocks and scratches. What's especially attractive is its thoughtfully designed spaces, pockets, straps, and loops that securely stow all essentials, from chargers to SD cards.
Lastly, it boasts a clever hidden zippered compartment to keep valuables safe. The compact size makes it fit comfortably in any bag. It's one of my favorite Christmas gifts for $50 or less that will last for a long time to come.
Check out on: Amazon | Native Union
11. Rocketbook smart notebook: For writers or students
Writers are perhaps the easiest people to shop for. Just get them a fancy notebook, and they'll love you for it. But they're going to love you, even more when you get them this high-tech smart notebook.
It comes with a stylus for writing and uploading notes to popular cloud services like Google Drive, Dropbox, Evernote, OneNote, iCloud, email, and more.
Then it can be reused countless times. It works in conjunction with the free Rocketbook mobile app, and the AI allows you to easily search and name notes with smart titles, smart search, and email transcription features.
A perfect Christmas present for anyone who writes a lot, whether for school, work, or personal use.
Check out on: Amazon | Best Buy
12. MUSICOZY Sleep Headphones: For the insomniacs
In an age when most of us are sleep deprived, what can be better than the gift of a sound night's sleep. This sleep mask with built-in headphones is perfect for dozing off to some relaxing music or meditations. It just needs a couple of hours of charging to offer up to ten hours of playback.
Further, it is made of premium memory foam with a smooth silk lining that's extra gentle on the skin. The charging port is easily accessible, and there are no bulky cords to struggle with. Lastly, it comes in various color options and is hand-washable for convenient hygiene.
13. Echo Dot (4th Gen): For smart home beginners
Don't tell Siri but Alexa is my favorite voice assistant. If you have someone looking for a smart speaker, gift them this 2020 version of the Amazon Echo Dot. It helps you do everything from playing music to controlling your home, staying organized, and more.
Further, it's got a sleek, compact design that fits perfectly into any space. The crisp vocals and balanced bass ensure you can enjoy your favorite music and audio with convenient voice control. Choose from three attractive color options.
Check out on: Amazon | Best Buy
14. Amazon Fire TV Stick 4K: For the couch potatoes
Here's one of the best Christmas tech gifts for men or women who love nothing more than watching movies and shows. The Fire TV stick plugs into the back of any TV to turn it into a smart TV for watching Netflix, Hulu, DisneyPlus, and more. Watch in vibrant 4K Ultra HD with support for Dolby Vision, HDR, and HDR10+.
At the same time, the Alexa Voice Remote lets you use your voice to search and launch shows across apps. You can even control the volume and power on your TV and soundbar with a single remote.
Further, ask Alexa to control your smart home, from lights to music and more.
Check out on: Amazon | Best Buy
15. Samsers foldable Bluetooth keyboard: For the workaholics
We all know that one person who just can't disconnect from work no matter where they are. If you're tired of seeing them typing away on their phone, you can help out with this nifty little portable keyboard that can help them have a mini-office set up everywhere they go.
This little device comes with a free phone holder and is perfect for fast, accurate typing. The keys are quiet, and it works seamlessly with iOS, Android, and Windows devices.
It's super easy to connect, and the automatic on/off and reconnection design makes operation more convenient. I also appreciate the elegant and wear-resistant PU leather material.
The built-in lithium battery can be used for 40 hours of continuous operation or 180 days of standby. It's definitely among the cool Christmas things under $50 on Amazon!
Well, there you have it. I hope this roundup of the best tech Christmas gifts under $50 helps you find something meaningful for all the special people in your life. Let me know in the comments what you are planning to gift this Christmas.
You may also like to read: